A BOUTIQUE Hotel WITH REAL BAJAN CHARM
Luxury Rooms in a Unique Historic Property
We have rooms in three areas of the property:
Our guest rooms blend tasteful decor with a touch of Bajan style to create spaces any discerning guest will love.  Each room has been designed with guest comfort in mind and each has its own unique charm – no two are the same.  
Each room is fully equipped with amenities to ensure your stay is both comfortable and memorable – including:
King or Queen Beds
Air conditioning
Luxurious linen towels and bathrobes
Room safes
Fridges,
Irons and ironing boards
Wi-Fi
Cable TV
Bathrobes
Blow dryers
Kettle with complimentary Teas
We try our best  to accommodate specific room requests but as a boutique hotel, we have a limited number of guest rooms. 
We recommend you book early to avoid disappointment. Group bookings can be facilitated by contacting our customer service teams either by email or by calling us.
Please see our Cancellation Policy.
Accessibility: Due to the historic nature of the property, Sweetfield has uneven ground, stairs, and areas which are not easily accessible for the disabled.
"The High Walls And Gate Conceal The Beauty That Lies On The Inside. Once You Pass Through The Gates, Prepare To Be Mesmerized."
The first floor of this Historic Manor (c.1900s) houses three beautifully maintained rooms. The building has cool, coral stone walls and well-trodden pine floors both complimented by traditional mahogany furniture in the formal dining and living spaces.
Guest suites are on the second floor, whilst the kitchen, dining and living spaces occupy the main floor along with hotel reception and the administrative offices.
A spacious guest suite on the second floor of the Manor. You'll enjoy spectacular views of the Caribbean Sea and the hotel grounds from here.
A contemporary, comfortable king-size bed is the main focal point of this spacious room and there is an enviable large bathroom featuring double sinks and a walk-in shower both made of cool white marble.  
Interesting fact: It is said that from here, whilst resting after a long journey across the Atlantic, the 'Captain' could look to Carlisle Bay and observe the anchoring Schooners.
Overlooking the charming mahogany-lined courtyard and offering views to the south, as well as the ocean at Carlisle Bay, Mignonette is a large, elegantly furnished room located on the second floor of the Manor. 
This 25ft x 25ft room exudes Barbadian old-world charm with mahogany furniture and a traditional writing desk. It also features a queen-size bed and a private bathroom with a luxurious shower.
The Island Room invokes thoughts of a lazy day at the beach with shades of whites and blues, and splashes of colour. 
A white-washed Queen Sleigh bed sits at the centre of this 25ft x 25ft room with also includes a luxurious, ensuite bathroom, which retains much of its traditional charm. 
Views into the Mahogany lined shaded courtyard and grounds provide a little taste of life in the West Indies.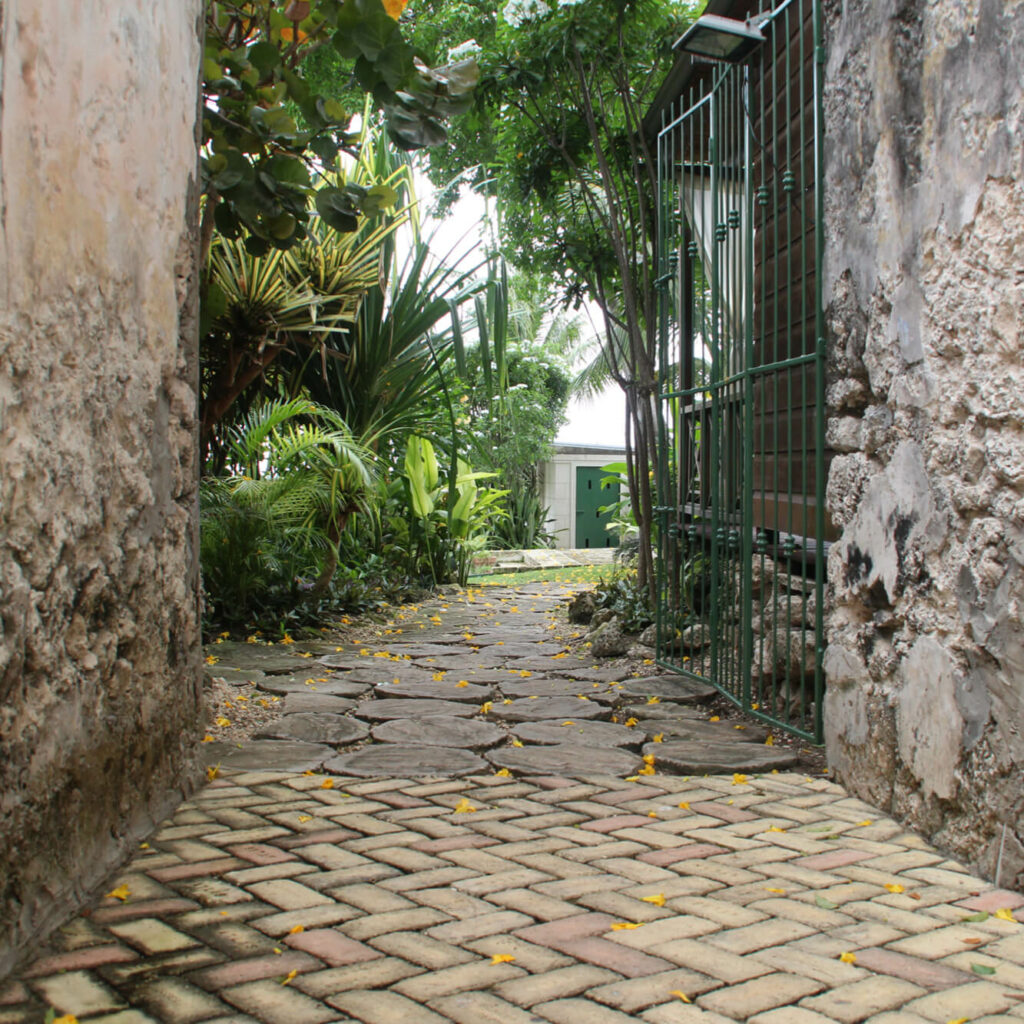 The Courtyard Buildings include the original outlying buildings of the plantation home (c. 1900's), as well as recent additions. These buildings house six lovely guest rooms located immediately adjacent to the main Manor; they have a private access area for guests only. 
In the past, these buildings served as stables, kitchens and storage rooms. Many original architectural features are still visible, most recognizably so in the Cottage Villa.  
Three of the rooms here have private patios – Bananaquit Nook, Hummingbird Room and Flamboyant Room, and three don't – Mahogany Room, Butterfly Room and Peacock Room, however all six have direct access to the gardens and natural lagoon pool.
This room pays homage to the Peacocks that grace our grounds – we felt it only fitting to name one room after these magnificent birds.
The Peacock Room is located on the second floor. It features wonderful traditional dark mahogany furniture paired with colourful accents, coral stone walls and views of the courtyards and a mahogany tree. 
With its coastal-themed decor, this room has a cool, tropical feel – perfect for those seeking rest and relaxation.  This comfortable hideaway also has private access to the grounds and the lagoon pool with its cascading waterfall.
This quaint retreat is tucked away in one of the Courtyard Buildings with guest-only access through an inner coral stone courtyard paved with traditional ballast stones. 
The Mahogany Room overlooks the inner coral stone courtyard and majestic mahogany tree. An original mural done by a Barbadian artist, adorns this room.
Interesting fact: Sweetfield Manor although adorned with a variety of trees, including two old mahogany trees. Although not indigenous to Barbados, these trees were planted in the 18th and 19th centuries as windbreak species and used as fuel for sugar factories. Barbadian mahogany is recognized for making quality furniture, specifically due to the tight grains of the local species.
Flamboyant (Private Patio)
Featuring a beautiful mahogany, four-poster bed and limestone walls the décor here fuses old-world charm with modern touches as with other rooms on the property.  A large travertine bathroom and walk-in shower complete this room.
Located on the second floor of the Courtyard Buildings, the Flamboyant Room has a large private patio overlooking gardens, and far reaching views of the ocean. 
Interesting fact: This room is named after the numerous, vibrantly coloured flamboyant trees on the property. When in season, these trees provide a wonderful, floral canopy.
Hummingbird Nook (Private Patio)
The Hummingbird Nook is located in one of the outer buildings and is accessed via the guest only, inner coral stone courtyards. 
This building which previously stored accessories for the stables now houses two rooms – Hummingbird Nook and Bananaquit Corner. These rooms both have queen-size beds with en-suite bathrooms and private, shaded patios with comfortable day beds. 
This room is perfectly positioned with easy access to the gardens for a moonlight swim in the lagoon-style pool with cascading waterfall.
Bananaquit Corner (Private Patio)
The sister room to Hummingbird Nook. Featuring a plush, queen-size bed, a private bathroom and a large outdoor covered patio and day bed.
This room has a large patio that opens onto the grounds making it perfectly situated for a moonlight swim in our lagoon-style pool.
Interesting fact: This building once stored the accessories for the stables.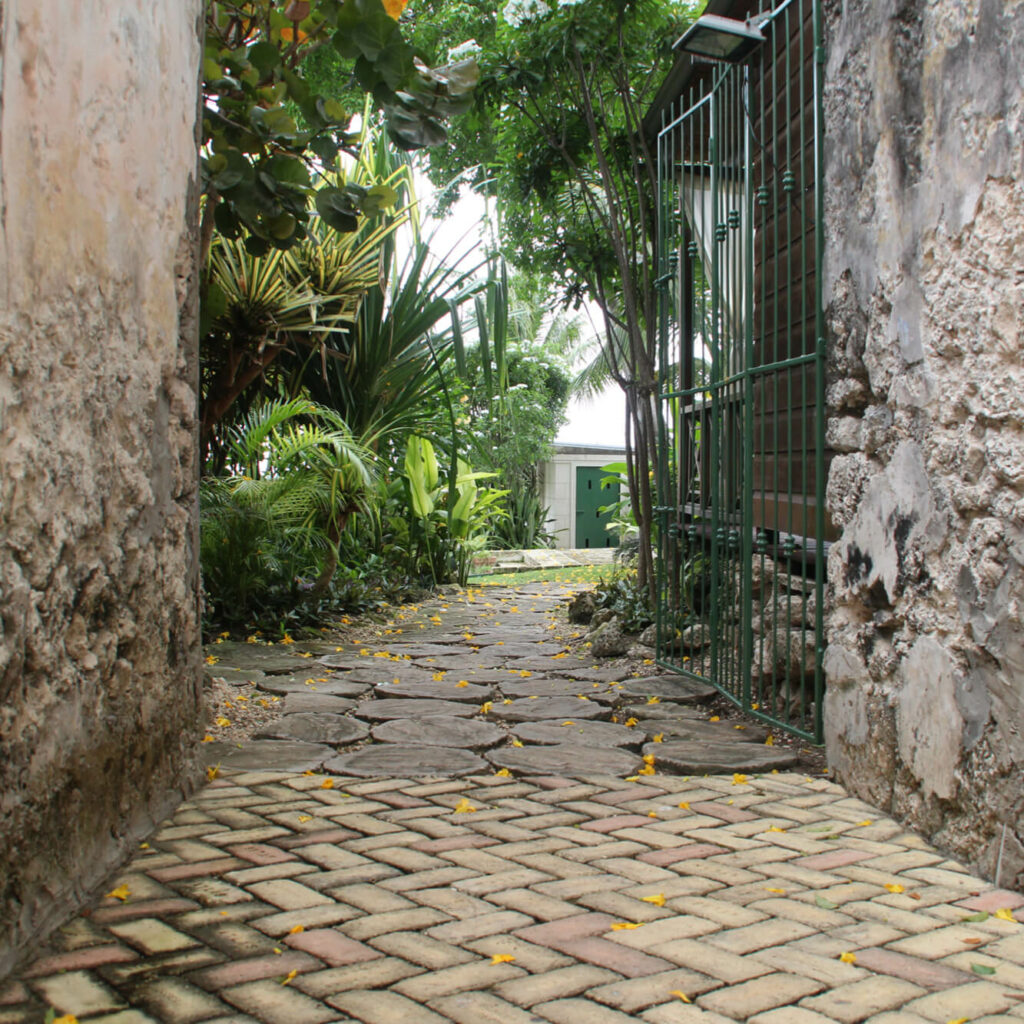 These out-buildings of the original plantation Manor house in particular the Carriage House were a critical part of the Hotel's designation as a 'listed historic building.
This charming villa/cottage is a conversion of the old stables located in one of the largest independent structures of the courtyard. Some of the floors are authentically uneven and the divisions between the stables still exist.
The Carriage House has a large, private main bedroom with an attached bathroom. There is a small sitting area and overhead 'loft'. The kitchenette is cleverly constructed within one of the original stables as is the dining area so here you can please yourself as far as meals go, you can choose to stay in or go out.
This room also has a lovely covered, private patio overlooking the grounds.